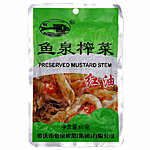 Preserved stem mustard in chili oil, 60g
16,67€/kg

mustard stem, salt, rapeseed oil, flavour enhancer E621, acidity regulator E330, sweetener E950, colour E160c, chilli, sugar, sesame oil, spices.
Produced in China.


Nutritional value per 100g:

energy 181kJ/43kcal; fats1,9g, of which saturates 0,5g; carbohydrates 5,3g, of which sugars 1,2g; protein 1,2g; salt 5,3g.