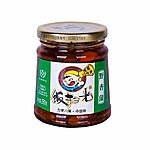 Preserved Mushroom (Fan Sao Guang), 280g
15,38€/kg

Ingredients: Canola Oil, Savory Mushroom(17,4% ), Chilli, Ginger, Chinese Lettuce, Mustard, Salt, Garlic, Monosodium Glutamate(E621), Spices (Star Anise,Fennel, Pepper), Citric Acid(E330). May Contain Traces Of soy, peanut and sesame.
Produced in China.


Nutritional value per 100g:

energy 1520kJ/363kcal; fat 36,9g, of which saturates 0g; carbohydrates 6g, of which sugars 0g; protein 3,1g; salt 4,46g.