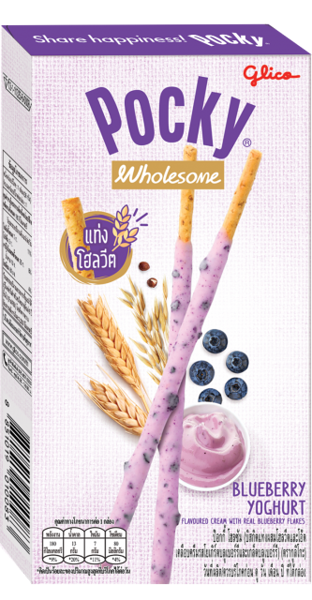 Pocky wholesome – blueberry and yoghurt biscuit sticks, 36g
€3.00

83,33€/kg

Ingredients: wheat flour, sugar, soybean oil, lactose, whole milk powder, whole wheat flour, oat flour, shortening, blueberry flake, yoghurt powder, thickener E1420, acidity regulator E296, emulsifier E322i(soy), colorant E162, raising agent E500ii, natural flavouring, articifial flavouring. May contain traces of nuts.
Produced in Thailand.


Nutritional facts per 100g:

energy 2017kJ/480kcal; fat 19g, of which saturated fat 0g; carbohydrates 69g, of which sugars 36g; proteins 8g; salt 1g.