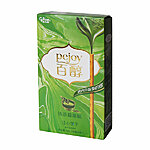 Pejoy biscuit sticks (Glico) – matcha mousse flavour, 48g
Ingredients: Wheat Flour,
Vegetable Oil (Partially-Hydrogenated), Sugar,
Lactose, Whole Milk Powder, Shortening, Malt Extract, Sweetened Condensed Milk, Green
Tea Powder, Calcium Carbonate, Baking Powder, Table Salt, Flavourings, Emulsifier, Coffee Powder,
Cocoa Butter
, Enzyme Preparation.
Produced in China.
Nutritional value per 100g:
energy 2031kJ/484kcal; fat 20,4g, of which saturates 0g; carbohydrates 66g, of which sugars 16,8g; protein 7,3g; salt 0,6g.