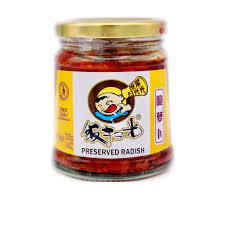 Preserved radish (FSG), 280g
€4.30

15,36€/kg

Ingredients: Radish, Rapeseed Oil, Chili, Salt, Flavor Enhancer (E621), Spices (Star Anise, Fennel, Pepper), Yeast Extract, Citric Acid E330, Preservative (E202).
Produced in China.


Nutritional value per 100g:

energy 1497kJ/356kcal; Fats 36,6g, of which saturates 0g; Carbohydrates 1g, of which Sugars 1g; Protein 4,5g; salt 5,6g.