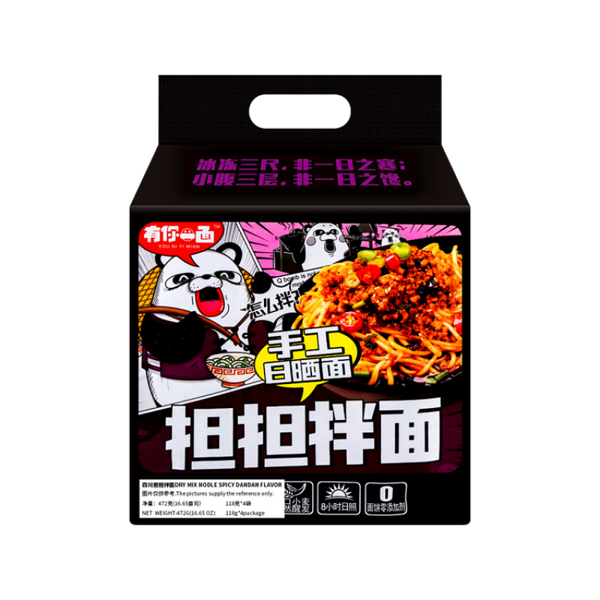 Instant noodles – dandan flavour (YouNiYiMan), 472g
€9.40

18,64€/kg

Ingredients: Noodles (94.1%): wheat flour, water, salt. Sauce sachet: soybean oil, pickles (leaf mustard, salt, sugar, preservative (E202), sweetener (E950)), dandan flavour (yeast extract, hydrolysed soy protein powder, thickener (E1422), flavour enhancer (E621), colour (E150a)), chili powder, garlic, onion, salt, peeled sesame, vinegar (water, rice, wheat bran, salt, colour (E150a), preservative (E202), sweetener (E955)), sesame, sugar, spices, peppercorn powder, flavour enhancers (E621, E635), peppercorn oil. Contains aspartame (a source of phenylalanine).


Cooking Instructions

: Boil 800ml of water, add the noodles and stir. Cook for 5-8 minutes. Then put the noodles in a bowl and stir in the sauces.


Produced in China.


Nutritional value per 100g:

energy 1913kJ/696kcal; fat 69g, of which saturated fat 11,5g; carbohydrates 13g, of which sugars 4,9g; protein 6g; salt 4,7g.