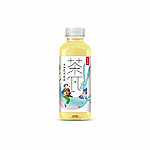 Greipfruit jasmine tea drink (Nongfu spring), 500ml
5€/L

Ingredients: Water, Glucose Syrup, Sugar, jasmine Tea (6%), Concentrated grapefruit and pomelo Juice (3%), Acidity Regulator (E330, E331), Flavouring, antioxidant sweetener.
Produced in China.


Nutritional value per 100g:

energy 139kJ/33kcal; fat 0g; carbohydrates 8g, of which sugars 4g; protein 0; salt 0,02g.