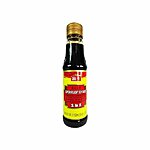 Sojakaste – hele, 150ml
10€/L

Ingredients: water, soybeans, wheat flour, salt, flavour enhancer [E621], colour [E150a], flavour enhancer [E6359, (E631), preservative [E211], sweetener [E955].
Produced in China.


Nutritional value per 100g:

Energy 152kJ/36kcal; Total fat 0g, of which sturated fat 0g; Carbohydrates 3,3g, of which sugars 1,5g; Protein 5,2g; Salt 15g .